One of my favorite food crafters is Lisa "Cake Lady" Stevens. Born and raised on St. Croix, Lisa is an entrepreneur who runs a successful bakery in Tampa, Florida. Her cakes are the perfect blend of high flavor and exquisite design. For me, Lisa embodies the ideals of pure cake creativity– innovative, unapologetic-full-on-flavor, and downright delicious creations!
Given my total respect for her extraordinary cake skills, I was ecstatic when I asked her to contribute one of her favorite cake recipes to the Crucian Contessa and she said, "Yes!!" So, just in time for the mango summer season comes a recipe for the lightest, fluffiest, mango-iest, pound cake I have ever tasted. This cake's delicate crumb is thoroughly perfumed with the season's best mango flavors. Truly Ahhhhmazing!!

The very construction of this cake is pure Lisa. It is completely unexpected in how it comes together so unconventionally yet so beautifully. There are absolutely none of the traditional leaveners like baking soda or powder. Yet, it comes out perfectly with scientific, cake-lady-ninja precision! This recipe is entirely Lisa's. I simply gathered the ingredients and put it together based on her directions and ingredients, in order to share what it could look like. However, I am sure in Lisa's practiced hands it is even more ethereal!
If you would like to sample Lisa's cake genius, check out her website for more information at www.sweetdreamsdesserts.com or give her a call at 813-785-9300. She ships throughout the U.S. and the Virgin Islands!*

Ingredients
3 Sticks of Salted Butter
3 Cups of Sugar
3 Teaspoons of Mango Extract
1 Teaspoon Vanilla Extract
1 Teaspoon Lemon Extract
1 Teaspoon Almond Extract
4 Large Eggs at room temperature
3 Cups All Purpose Flour
3/4 Cup Orange or Pineapple Soda
1 Cup Peeled and Finely Chopped Mango
Glaze:
1 1/2 Cups Sifted Powdered Sugar
Approximately 3 – 4  Teaspoons Mango Nectar or Orange Juice
Directions:
Bring all the ingredients to room temperature including the unopened can of soda. Remember, that in a Caribbean kitchen it takes a shorter time for ingredients to come to temperature. So, be sure the butter is not left out too long. I usually leave my butter out for about 15 minutes., and the other ingredients for about one hour. In colder regions it takes about one hour to bring everything to room temperature.  (See Contessa Kitchen Tip #2.)
Preheat your oven to 325 degrees, if you are using a gas stove bake at 300 degrees.
Grease and flour a 10-inch fluted tube or bundt pan and set aside. You can also use Baker's Joy, which is a non-stick spray with flour included in it.
Beat the butter with an electric stand mixer on medium speed for 30 seconds, if you are using a smaller hand held mixer beat for about one minute. Hand mixers are typically not as powerful as stand mixers. If you are going to do alot of baking, I would really encourage you to get a stand mixer. They are simply indispensable.
Gradually add the sugar to the butter, beating on medium to high speed about six minutes total or until very light and fluffy. This is a very important step, as creaming these ingredients help to aerate the batter and makes for a lighter cake. It is a very important step, so please do not skip it.
Add vanilla, almond, lemon, and mango extracts until incorporated.
Beat in the eggs one at a time. Beat the eggs into the mixture for at least 30 seconds after each addition. Be sure to scrape down the bowl often.
Gradually add the flour, beating on low to medium speed just until combined.
Fold in the finely chopped mango and soda, and then pour immediately into the prepared pan.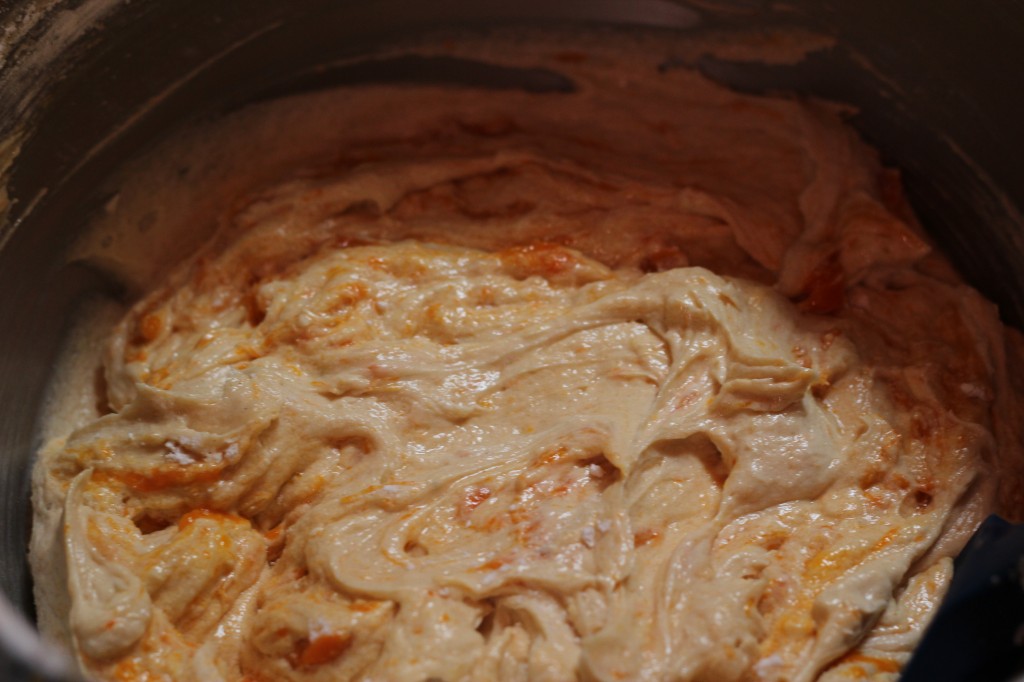 Bake at 325 degrees, or 300 degrees if using a gas stove, for about an hour. You may begin checking for doneness after 45 minutes with a gas oven.
If you are using a light colored pan, you can tell when the cake is done if a skewer inserted near the center of the cake comes out clean. If you are using a darker colored pan, you can tell if the cake is done when the edges are browned. It can be difficult to gauge when this cake is finished, therefore start checking after the first 45 minutes.
Once the cake is finished, let it rest in the pan for just ten minutes. Then invert the pan to remove the cake and allow to cool.
Glaze:
For the glaze simply add enough mango nectar to the powdered sugar to make it drizzling consistency. If you do not or cannot find mango nectar, just substitute orange or lemon juice. Go slowly with adding more liquid. I would encourage you to add a teaspoon at a time, mixing after each teaspoon until you see it is at the right consistency.
Spoon the glaze over the cooled cake, allowing it to slowly roll down the sides.
Lisa is a professed sugar-lover, so she suggested that the cake be topped with an additional dusting  of powdered sugar and  served with fresh mango slices.

With or without the glaze, this cake is bursting with a million layers of mango flavor. You can even see specks of the orange jeweled, sun-kissed fruit peeking through this sweet creation!
Enjoy!!
*(Disclaimer: The only "cost" to Lisa for presenting her business information was sharing this recipe with us!)