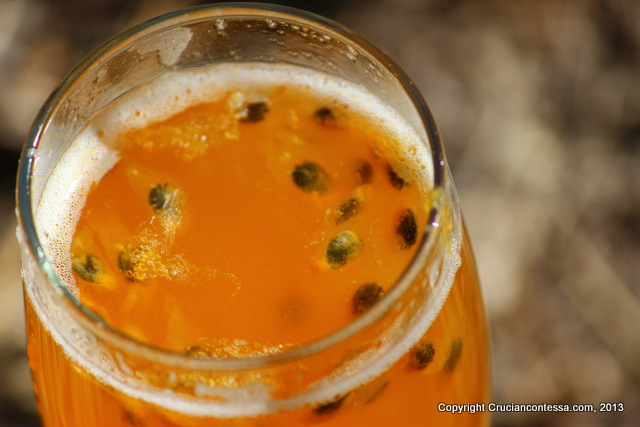 Well, after a long Christmas Season inspired hiatus, (and some major technical difficulties) it feels wonderful to be back to blogging and sharing some of the awesome flavors that we produce here on our little rock! The holiday season was a time of family and friends gathering, and I have to say that I am still in the mood for food, friends, and family! My favorite time of day to gather everyone at our home is for that special halfway time between breakfast and lunch–Brunch. And nothing says brunch better than a mimosa! Passion Fruit mimosas anyone?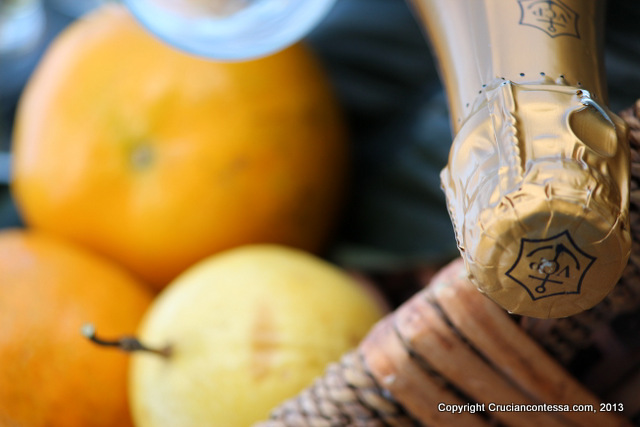 Ingredients:
2 Cups Passion Fruit Pulp
4 Cups Water
1 Cup Sugar (or more or less to your taste)
The Tiniest Pinch of Salt
2 Drops of Banana Essence
2 Limes Juiced
A Splash of Grand Marnier
A bottle of your favorite Cava, Prosecco, or Champagne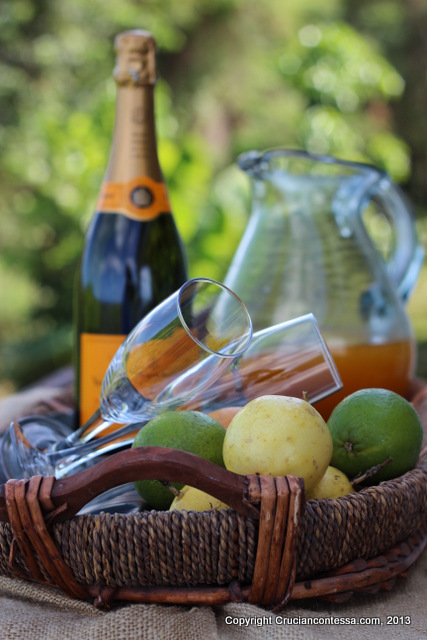 Directions:
Bring half the water to a boil and add the fresh passion fruit pulp. Stir for a few minutes to release as much of the flavor from the seeds.
Add sugar and salt, and stir until dissolved. Then add the fresh lime juice.
Pour in the remaining water and add the banana essence. Banana essence is a very potent flavoring that is found easily here on the island. If you can't find it in your local Caribbean markets, then feel free to leave it out. I just find that it brings such a great flavor twist to virtually every fresh juice I make! Just a few drops is literally all you need for this essence– that is how potent it is.
Place the juice in the refrigerator to chill completely after letting it come to room temperature. You can strain it at this point, but I love the visual effect of those darkened gelatinous seeds suspended in a sea of champagne. Something just too decadent about that!
When you are ready to serve your guests, first pour the champagne half way into the flute, then add a splash of Grand Marnier, and then pour the passion fruit juice over it all.
It is sunshine and sweet sparkling wine holding hands on a late morning with friends! It doesn't get better than that!
Enjoy!