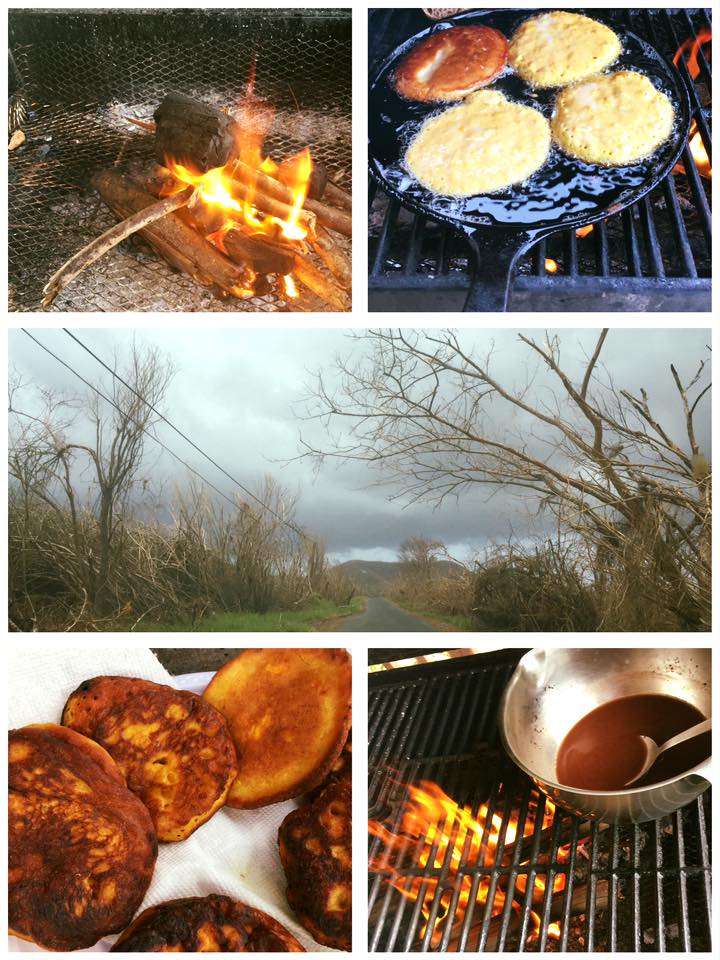 I wrote this soon after the devastating Hurricane Maria ravaged our home and posted it on FB. I had little to no access to the internet at that time, so I wanted to share it with you now. We are still in the rebuilding phase of our island life. And much help is still needed to bring us back to where we need to be. Thank you for hanging in there with me. This has been a difficult year for me personally as well as for my island. But I have hope. Always. Always. Hope. 
Love. 
So many thoughts I have yet to sort through, much like the chaos that is our home. But the single feeling that resonates is simply LOVE.
We made it through a violent night where nature unleashed itself over and sometimes through us. I've never heard or felt wind like that. A low nightmarish hum that was just a FORCE. It pressed itself up against the doors and windows just hard enough to let us feel glass bend but not break. Letting us know, "But I could if I wanted to."
Thankfully, we only suffered some water damage and woke up the next day to a stripped island. Every leaf picked meticulously clean off its branches. Trees overturned and some snapped in half. Birds flew aimlessly looking for places to shelter, to nest, to rest. We lost most of our trees so they beat their wings in the sky against that reality . The house is stained a rusty dirt red, evidence of that night's brutality scoured into its stone exterior. And the heavens held even more water above our heads like a soaked cloud-grey rag still not completely dried, just dripping. Just threatening… a little bit more.
Hurricanes stir up more than just wind and rain and destruction. They stir up stressful emotions like fear, devastation, fear, uncertainty, fear. But they also stir up truths like love, compassion, love, kindness, love, assistance, love.
Around the second or third day, when we finally got some cell service, I lost count of how many text messages came flooding in. Concerned friends and family who only wanted to know two things: How are you? And how can we help? Peter and I sat together on the side of the road where we had found ONE solitary bar of cell service and tried to answer each one as quickly as we could in order to get to the next.
As we made our way back up our road, we gift wrapped all that good energy and heaved all that love over our shoulders Santa Clause style to carry with us to face the clean up.
What a team we made. Our love is honest with and for each other. So, we laughed, fought, cried, loved, forgave, argued some more, and reached out for each other often in the days since the hurricane. We salvaged the mangled tree limbs to use for firewood. And we used our tiny outdoor grill to make our food. We collected some of the fallen fruits that Maria generously threw to us and used our kitchen creativity to feed ourselves. My favorite was the egg fruit banana fritters I made for breakfast one morning with the left over eggfruits, and a cup of cocoa tea made with canned coconut milk (no fresh milk). DEHLISHOUS!!!
I am a person hesitant to ask for help. It's my Crucian pride and resilience that says, if I can't do it myself, I don't need it. But the Hurricane blew away that untruth. I need people, especially in times like this. These days are built for community! And every offer to help from every friend, I let myself say a simple, "Yes!" Whether it was an offer to clear out the water spouts or a shared meal of Saltfish and vegetables. I said yes for us!
This island will take time to rebuild. But for those of us who stay to do that work, or return to help finish it, I believe simply it will get done. And I look forward to those better days.
I went to hang up some clothes yesterday and noticed some young leaves peaking up on the bare branches of a tree in the yard. Life somehow always finds a way. It always returns. That's the message for me in those few spots of greens in a sea of brown devastation.
I love my island. I love the ways we come together after all tragedies to help each other. And I love that we were, we are, and that we WILL be again!
I hope you are having a wonderful Crucian Day, wherever you are in the world!
Love,
The Crucian Contessa