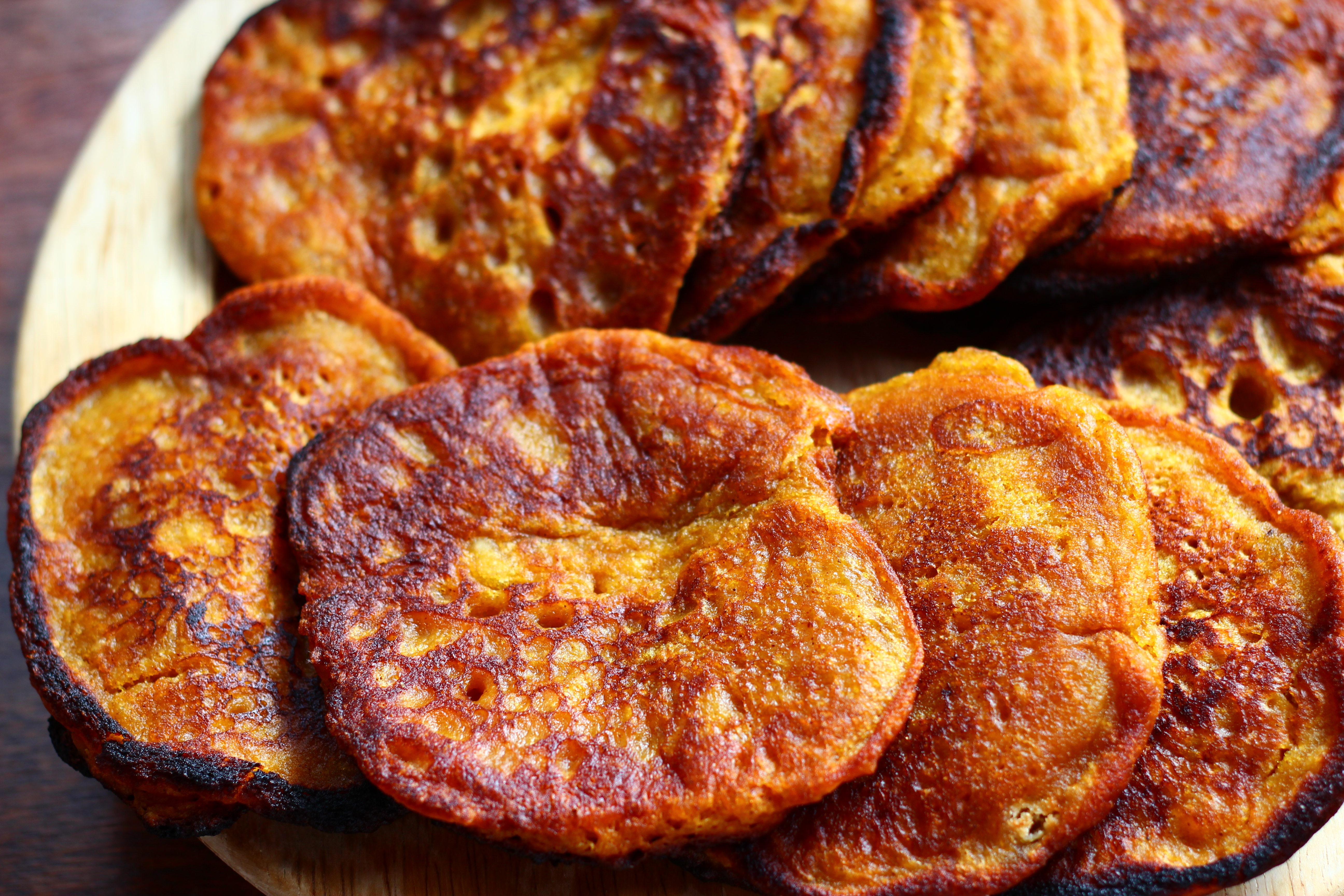 Growing up on St. Croix, Saturdays meant three things: clean up the house; afternoon family trips to the beach (Dorche was my favorite); and Banana Fritters and Fried Fish! It was a light (for Crucian taste) and simple meal that my parents could assemble quickly to conquer our sea-fueled hunger, and we could devour even faster.
This is my take on that Saturday staple. I loaded this version up with flavor– piling on the cloves, ginger, nutmeg, almond, and vanilla. And weighed down the lightness from the unbleached flour with a quarter portion of whole wheat pastry flour and my go-to for texture, fine semolina.
That tempting, unholy, reddish-orange hue actually comes from real roasted local pumpkin. I am a freshness fanatic, and I ADORE fresh pumpkin. I also find that the canned pumpkin can also work very well. In this case, either is actually OK to use. To balance it out, I used a hint of freshly fine-grated coconut– more for background than actual texture.
This is a rich treat, but a more-than-worth-it treat!
Ingredients
1 1/2 cups of unbleached all purpose flour (Weigh or use the dip and sweep method: See Contessa Tip #4)
1/4 cups whole wheat pastry flour (you could use whole wheat flour, but it will be a different texture as it is a tougher flour than whole wheat pastry flour.)
2 tablespoons fine semolina flour
2 teaspoons baking powder
1/2 teaspoon salt (I prefer sea salt or kosher salt. It is a better tasting salt without the harshness of iodine.)
3/4 cup pumpkin puree (if using fresh, wrap loosely in foil paper and bake until fork tender at 350 degrees)
1 mashed ripe banana
2 tablespoons unsweetened coconut flakes or freshly grated coconut.
1 teaspoon cinnamon
1 tablespoon real vanilla extract
1 teaspoon real almond extract
3/4 teaspoon grated nutmeg
1/4 teaspoon ground cloves
1-2 inch knob of grated fresh ginger
A whisper of ground allspice (a bit less than an 1/8th of a teaspoon)
1 1/4 cups milk
2 eggs lightly beaten
1/2 cup  melted and cooled butter
3/4 cups sugar (some people like a very sweet fritter so feel free to add more or less to your taste.)
Vegetable Oil for Frying
Mix all of the dry ingredients (unbleached flour, whole wheat pastry flour, semolina, and baking powder) together except the sugar and salt in a bowl.
In a separate bowl mix together the wet ingredients (eggs, milk, butter, banana, and pumpkin) and the sugar, salt, and flavorings –allspice, ginger, almond, vanilla, nutmeg, cloves, cinnamon, and coconut) until well combined.
Add the dry ingredients to wet ingredients. Stir only until all the ingredients are incorporated. Over-mixing this batter will develop the gluten in the flour and toughen the final fritter. So do no more than 10-12 strokes and walk away! Don't be tempted to continue mixing. Some lumps are ok.
Heat a griddle or large frying pan with a thin layer of vegetable oil for frying. Place about a 1/4 cup of the batter in the hot oil, just as you would pancake batter. Watch for some bubbles to appear on the surface of the fritter before flipping with a spatula to continue frying on the other side. Its ok to check the bottoms by lifting the fritters before flipping. Place the cooked fritters on a wire rack with paper towels underneath to drain, or brown paper bag. Its your preference.
The edges will be slightly curled, blackened, and crisp while the center will be soft, moist, and taste just a bit dense in a really pumpkin and banana-good kind of way! Enjoy these warm!